Outdoor Storage Sheds for Sale
Need more storage space for your lawn and garden equipment, patio furniture, or looking to build an affordable pool house? We offer high-quality outdoor storage sheds that will solve all of your storage needs. Each of our storage buildings are hand-built by Amish craftsmen and can be customized.
Browse are available storage sheds for sale below:
Versatile Wooden Sheds Available in Pennsylvania
Wooden sheds can be utilized for a variety of uses. We offer a wide selection of outdoor storage sheds to help you free up space in your home or garage. These storage buildings are hand-built by Amish craftsmen. Our wooden sheds provide quality, convenience and stylish storage areas for outdoor equipment, children's toys, sports equipment, and other items that may clutter your home or outdoor space. Some of our storage building styles are large enough to hold a single car or large machinery.
Want to learn more about our products and service? Check out some of our frequently asked questions!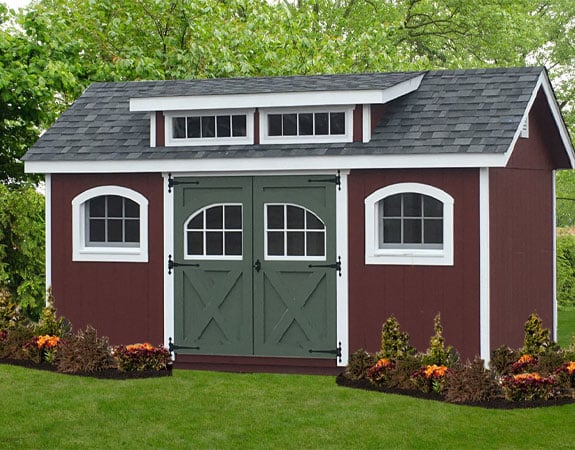 High-Quality Rent to Own Storage Buildings for Sale
There are many types and styles of rent-to-own storage builders. They include A-frame Workshops, Mini Barns, Quakers, Hywalls, Dormers, Firewood, Garden, Garden Elite, Hip Roof, and Sky Shed. Each of these storage buildings are tailored to meet your specific needs, and can serve for a number of purposes. Customizable options can also be added, such as:
Windows
Doors
Storage lofts
Shutters
Vents
Reinforced flooring
Flower boxes
Pressure-treated wood ramps
Vinyl siding
And more!
Now that you know what kind of storage building you want, the only thing left is to figure out where to place it on your property! Not sure what that entails? We will gladly give you some tips on how to do it yourself. We can also recommend several site-preparation contractors to save you time and effort.
We offer two methods for rent-to-own storage shed delivery. Sheds can either be delivered pre-built from the factory location, or they can be built on-site for an additional 30%. Amish carpenters will be putting together your wooden shed in both cases. If the rent-to-own storage sheds are brought pre-built, they are delivered using a MULE, or a shed forklift. The MULE is designed for wet weather and tight locations, are convenient and operator-friendly. They are the best choice for our clients who are concerned about yard damage. When the storage shed is delivered, it is first unloaded on the street or in your driveway, and then the MULE is unloaded and lifts the wooden shed to the desired location of your storage shed. These rent-to-own storage sheds are offered only in:
Pennsylvania
Delaware
New Jersey
Maryland
If you are a New York resident, we cannot offer a rent-to-own option, but our storage buildings are still available for sale.
Outdoor Storage Sheds Near You
No matter what purpose you're buying a  storage shed for, Storage Sheds and Garages is sure to be your one-stop-shop for a storage shed. We have countless storage sheds available for sale that you can choose from, which means you'll surely find the perfect model that fits your needs! If you have a specific question or concern about your individual needs, contact us today to learn more!