Shed Site Preparation Services
Preparing your site for a new shed is crucial to ensuring a sturdy and long-lasting structure. Whether you need a concrete foundation, ground prep, or a shed removal, Storage Sheds and Garages can do it all. From the beginning, our team will help you prepare your new storage shed or garage by providing top-rated shed site preparation services you can trust. We are dedicated to ensuring your site is well prepared for your new building construction.
Interested in learning more about our shed site preparations? Contact us today!
Long-Lasting Shed Foundations
Installing a quality shed foundation is crucial to the structural integrity of your new shed. Upon arrival, our shed builders will get right to work. First assessing your property, and then building the foundation. Our team offers both gravel and concrete foundation options. From preparing your space for a shed, garage, or horse barn, our team will complete quality foundation installation you can depend on.
Important Factors of Installing a Quality Foundation:
Even Weight Distribution: Minimizes stress and prevents floor from sagging, becoming uneven, etc.
Moisture Protection: Protects belongings from water damage and mold growth.
Pest Control: Seals your foundation to help prevent against pests from entering the floor.
And More!
Have any additional questions? Check out our FAQ page or get in touch with our team today!
Shed Removal- Let Us Take Care of Your Old Shed
Prepare the way for your new shed and get rid of that old, rotting shed in your backyard. Our team will arrive on site ready for shed removal to add space or make room for something new. With our reliable equipment and professional experience, we will have your old shed demolished and off your property in no time!
Let our team step in and do the hard work for you. Contact us today!
Shed Site Preparation for a Solid Foundation
Why invest in a quality shed or structure when there is no good foundation to hold it up? At Storage Sheds and Garages, we prioritize not only providing quality structures for sale, but also the foundation that they stand on. Our shed site preparations work to add longevity to your shed and last long without cracking. Add a solid foundation to the base of your shed to protect it over the long run.
Discuss next steps for shed site preparation when you give our team a call today. Or fill out our online contact form! We look forward to hearing from you.
Gravel Foundations
We specialize in ground prep for sheds, garages and horse barns. Check out our options for gravel shed pads for your garage or storage building. We create strong foundations, large or small!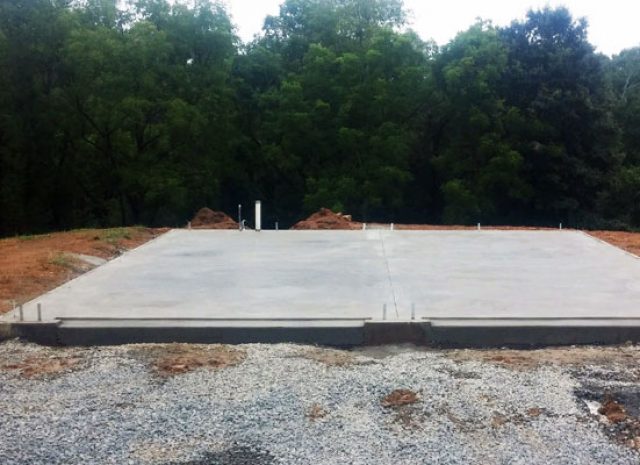 Concrete Foundations
We're experts in concrete foundation work! Whether you're planning ground prep for a small shed or a multi-car garage, we have concrete solutions to match your needs.
Shed Removal
Old shed in the way? Not a problem! We offer demolition and removal of sheds, garages, and other buildings. It's just another way we can help with your shed ground prep.