Superior Small Garden Sheds
Starting At $3615
We have a great selection of garden sheds to choose from, including including out small Garden Dormer Sheds! These sheds are made with high-quality materials and are sure to meet your needs. You can choose between our standard pressure treated walls or upgrade to vinyl siding. We also offer painted smart side LP lap siding. No matter what you choose, you're sure to be happy with your new garden shed from Storage Sheds and Garages LLC!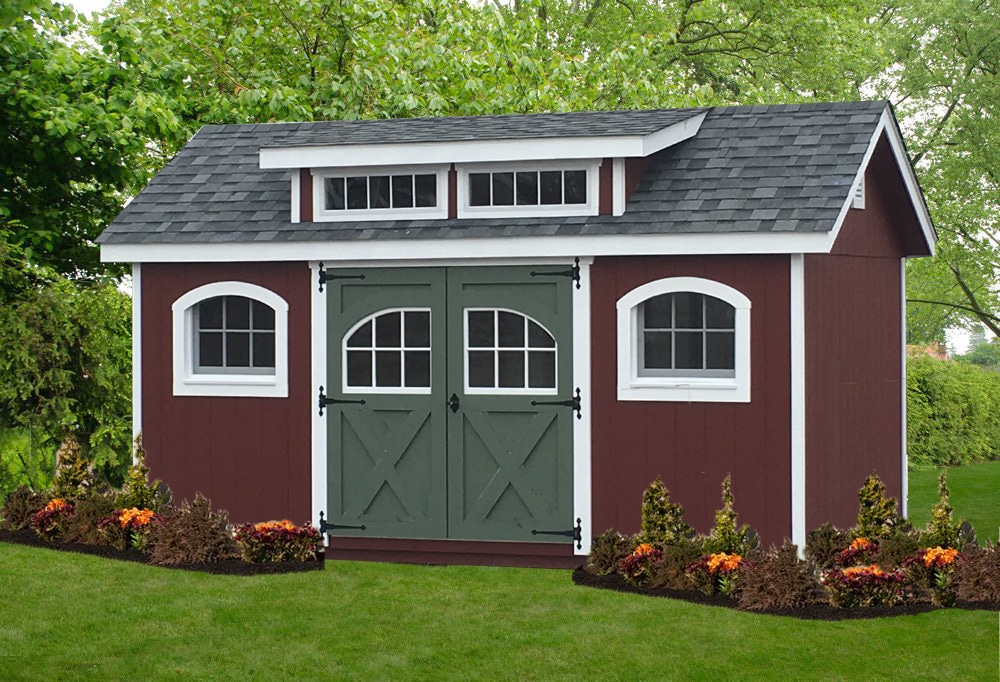 Features of Small Garden Dormer Shed for Sale
Check out our Small Garden Dormer Sheds! These sheds are the perfect size for any small backyard, and come in a variety of finishes to suit your style. Our pressure-treated skid foundation forms the base of the shed, while floor joists provide sturdy support for your belongings. The walls are standard with 2x4s 16″ OC, so you can customize them to fit your needs. Finally, choose between our SmartFinish Wood Flooring, ½" LP Smartside Siding, or Cedar Creek Vinyl Siding to finish the exterior. With so many options available, you're sure to find the perfect shed for your needs!
Garden Transom Dormer Shed Basic Construction
Basic Construction
4×4 Pressure Treated Skid form the foundation
Floor joists are standard 2×4's 16″ on center
5/8″ SmartFinish Wood Flooring
Walls are Standard with 2x4s 16″ OC
6'7″ High Walls
½" LP Smartside Siding Finishes the Exterior OR
Optional (Cedar Creek Vinyl Siding w/ ½" Wood Sheating) OR
Optional (Painted Smart Side LP Lap Siding)
Set of Double Doors w/ Transome Windows
Includes 2- 24×27″ Windows w/Trim
2- Pair Shutters
Rafters are constructed of 2x4s 16″ OC
7- Pitch Roof
7″ Overhangs on Gables
Transome Dormer w/ Transome Windows
Arch Gable Vents
Roof consists of ½" sheeting
Tar Paper
30 year Architectural Shingles
Standard Double Door widths:

8 wide building = 4′ Wide x 6′ High Doors
10 wide building = 5′ Wide x 6′ High Doors
12 wide building = 6′ Wide x 6′ High Doors
14 wide building = 7′ Wide x 6′ High Doors
Garden Transom Dormer Shed Prices
**Prices do not include delivery!**
Available in 6 foot, 8 foot, 10 foot, 12 foot, and 14 foot
| | | | |
| --- | --- | --- | --- |
| Size | Wood | Vinyl & LP Board & Batten | Hardie Plank & Pine B&B |
| 6 X 8 | $3,615 | $4,280 | $4,695 |
| 6 X 10 | $3,940 | $4,680 | $5,130 |
| 8 X 8 | $3,970 | $4,720 | $5,170 |
| 8 X 10 | $4,260 | $5,080 | $5,560 |
| 8 X 12 | $4,585 | $5,480 | $5,995 |
| 8 X 14 | $4,890 | $5,860 | $6,405 |
| 8 X 16 | $5,195 | $6,235 | $6,810 |
| 10 X 10 | $5,020 | $6,015 | $6,575 |
| 10 X 12 | $5,500 | $6,610 | $7,220 |
| 10 X 14 | $5,975 | $7,200 | $7,855 |
| 10 X 16 | $6,415 | $7,740 | $8,445 |
| 10 X 18 | $6,905 | $8,345 | $9,095 |
| 10 X 20 | $7,375 | $8,930 | $9,725 |
| 10 X 22 | $7,855 | $9,525 | $10,370 |
| 10 X 24 | $8,330 | $10,115 | $11,010 |
| 10 x 26 | $8,795 | $10,685 | $11,630 |
| 10 x 28 | $9,285 | $11,290 | $12,285 |
| 10 x 30 | $9,795 | $11,920 | $12,965 |
| 12 X 12 | $5,970 | $7,195 | $7,850 |
| 12 X 14 | $6,480 | $7,820 | $8,530 |
| 12 X 16 | $7,005 | $8,470 | $9,235 |
| 12 X 18 | $7,530 | $9,125 | $9,940 |
| 12 X 20 | $8,055 | $9,770 | $10,635 |
| 12 X 22 | $8,580 | $10,420 | $11,340 |
| 12 X 24 | $9,095 | $11,055 | $12,030 |
| 12 X 26 | $9,615 | $11,700 | $12,725 |
| 12 X 28 | $10,130 | $12,335 | $13,415 |
| 12 x 30 | $10,655 | $12,985 | $14,120 |
| 12 X 32 | $11,190 | $13,645 | $14,835 |
| 12 X 34 | $11,705 | $14,280 | $15,525 |
| 12 X 36 | $12,255 | $14,965 | $16,265 |
| 12 X 40 | $13,275 | $16,220 | $17,625 |
| 14 X 20 | $9,800 | $11,925 | $12,975 |
| 14 X 24 | $11,175 | $13,630 | $14,820 |
| 14 X 28 | $12,420 | $15,170 | $16,485 |
| 14 X 32 | $13,660 | $16,700 | $18,140 |
| 14 X 36 | $14,885 | $18,215 | $19,780 |
| 14 X 40 | $16,130 | $19,755 | $21,450 |
Garden Transom Dormer Shed Exterior & Roofing Colors
Paint Colors
Barn Red
Beige
Belmont Blue
Black
Chestnut Brown
Dark Brown
Dark Gray
Hunter Green
Khaki
Pequea Green
Ronks Gray
Sandstone
White
Vinyl Colors
Antique Ivory
Classic Linen
Heritage Gray
Khaki
Sage
Sandstone
Slate Blue
Slate Gray

White
Shingle Colors
Charcoal Gray
Dual Black
Dual Brown
Dual Gray
Earthtone Cedar
National Blue
Vintage Green
Weather Wood
Metal Roof Colors
Ash Gray
Black
Black (Textured)
Bright Red
Bright White
Brown
Burgundy
Burgundy (Textured)
Burnished Slate
Burnished Slate (Textured)
Charcoal
Charcoal (Textured)
Clay
Copper Metallic
Evergreen
Evergreen (Textured)
Gallery Blue
Ivory
Ivy Green
Light Stone
Ocean Blue
Pewter Gray
Polar White
Rural Red
Rural Red (Textured)
Tan
Garden Transom Dormer Shed Options