Top-Rated Sheds for Sale Near Chester County
At Storage Sheds and Garages, we offer sheds made of the highest quality materials and master craftsmanship. Our sheds for sale near Chester County come in all sizes and competitive pricing options to match your specific budget. With extensive knowledge of the industry, our team will help you through choosing the correct storage shed to fit your specific needs. The possibilities are endless when it comes to our sheds!
Explore the many benefits of owning one of our sheds for sale near Chester County when you contact our team at Storage Sheds and Garages today!
Dependable Chester County Outdoor Shed
Don't leave your tools and equipment outside! Our well-maintained Chester County outdoor sheds will keep your outdoor space organized and mess-free. Our sheds will also increase the overall value of your property. Our shed selection includes mini barns, quakers, dormers, and much more. Don't have an outdoor space prepared for your new shed? Our team also provides site preparation services to ensure your shed has the proper foundation to stand on and will last for years to come.
Contact our team of professionals today to get more information about our shed options for your property and storage needs.
Outstanding Garden Sheds in Chester County for Your Property
If you're in the market for a shed, Storage Shed and Garages has the storage solutions for you. Our garden sheds in Chester County offer storage space, protection, organization, and much more, compared to a simple outdoor structure. Safety store your garden tools, equipment, and other necessities in one of our reliable sheds. Upgrade your outdoor space with our sheds manufactured to fit your lifestyle needs!
Get in touch with our team today to get more information about our large garden sheds and/or our options for delivery!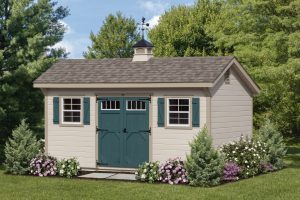 Learn More About Our Amish Sheds Near Chester County!
Our well-built Amish Sheds near Chester County provide practical storage and organizational space for all your belongings. With a range of customization options, you will find your perfect shed at Storage Sheds and Garages. We believe in our sheds. That is why we offer a three-year limited warranty on our Amish Sheds near Chester County. You cannot beat the quality and dependability our sheds provide!
Have more questions? Contact us today or check out our FAQ page! We cannot wait to get started.